12 words for Coconut
In Dhivehi (the local language of the Maldives) there is not one word for coconut, but 12 different names for the whole lifecycle of the fruit. On the local markets, you will hear most people ask for a Kurumba or Kaashi, but there are other stages in which the fruit is used as well.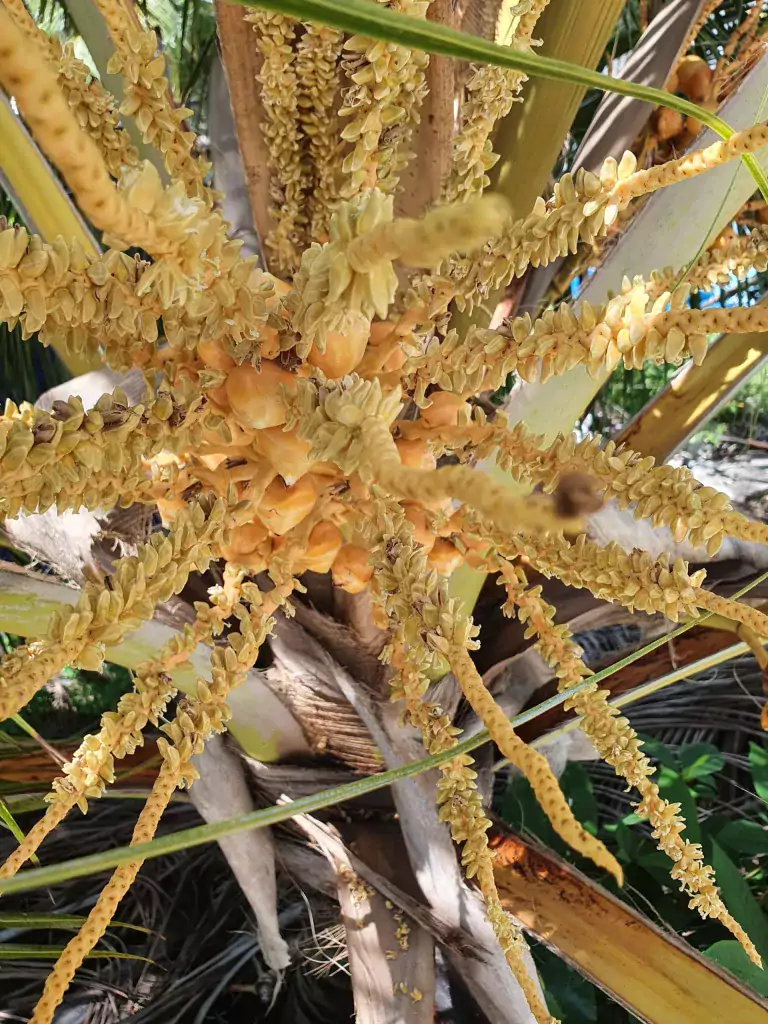 1. RUKUEHTH (ރުކުއެތް)
FLOWER BUD
The cluster of palm flowers can be tied together to a 'Raa Rui', from which toddy (coconut sap, or 'Ruku Raa' in Dhivehi) can be extracted twice a day. When left to ferment it becomes palm wine, which can be distilled to produce arrack.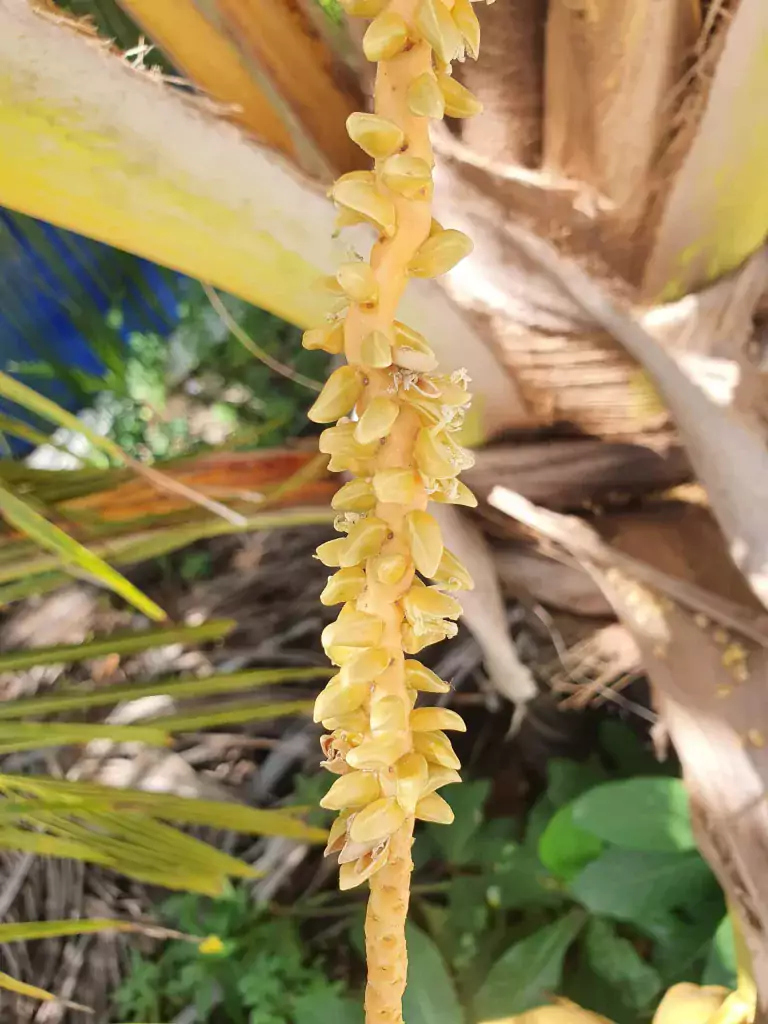 2. RUKUMAA (ރުކުމާ)
COCONUT PALM FLOWERS
In the Maldives however, it is used unfermented as a drink, but more commonly reduced by boiling to a sweet honey-like syrup known as 'Dhiyaa Hakuru' (Maldivian Sugar). When boiled further, it will be reduced to jaggery or palm sugar.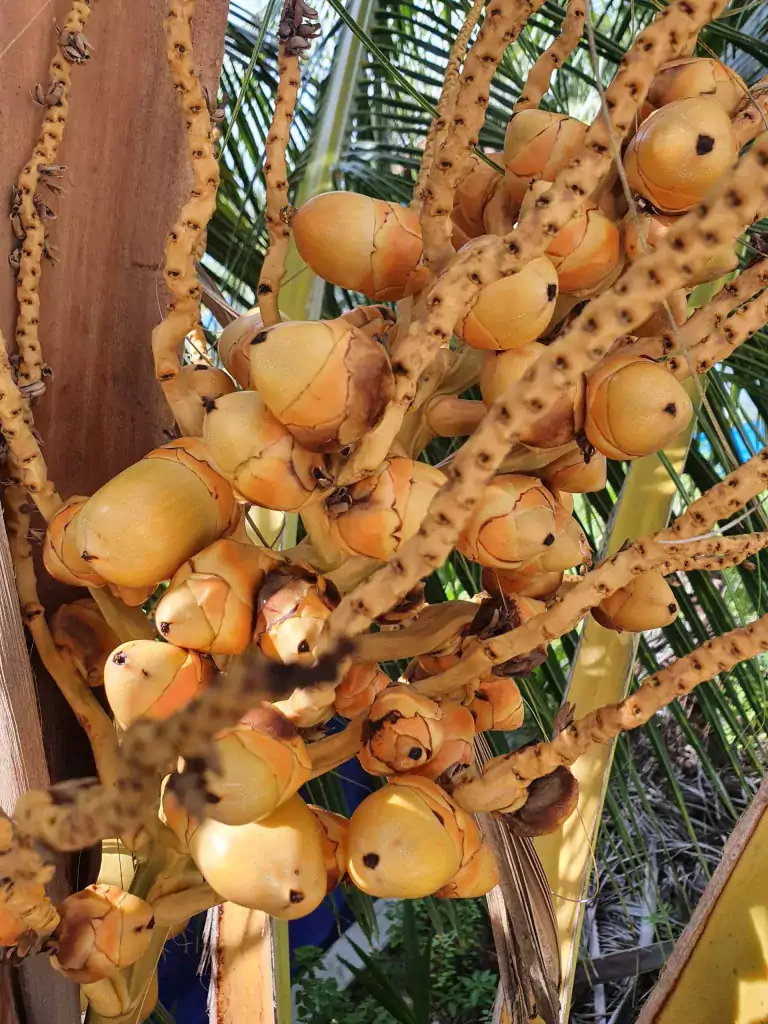 3. GOBOLHI (ގޮބޮޅި)
THE JUST FORMED NUT
This is the youngest stage of coconut growth, after the flower has yielded fruit. Although Gobolhi is rarely used and is often discarded as waste, its water can be drained and used in cooking.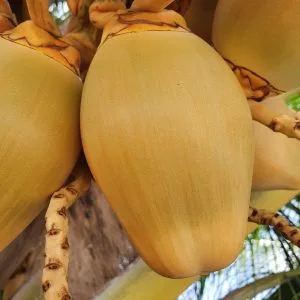 4. MIRI (މިރި)
YOUNG COCONUT WITH NO MEAT
Not commonly used, only occasionally in a snack platter known as 'Huiy Mas Kaashi'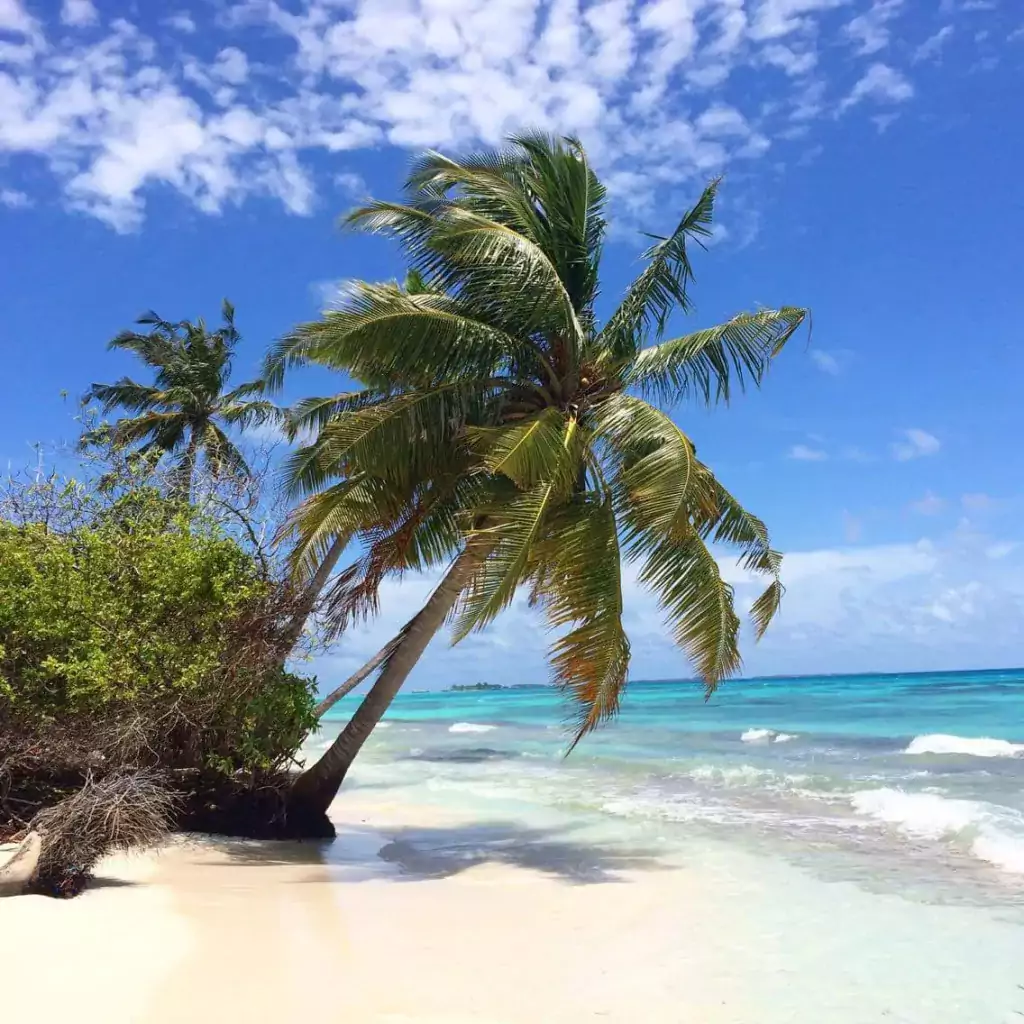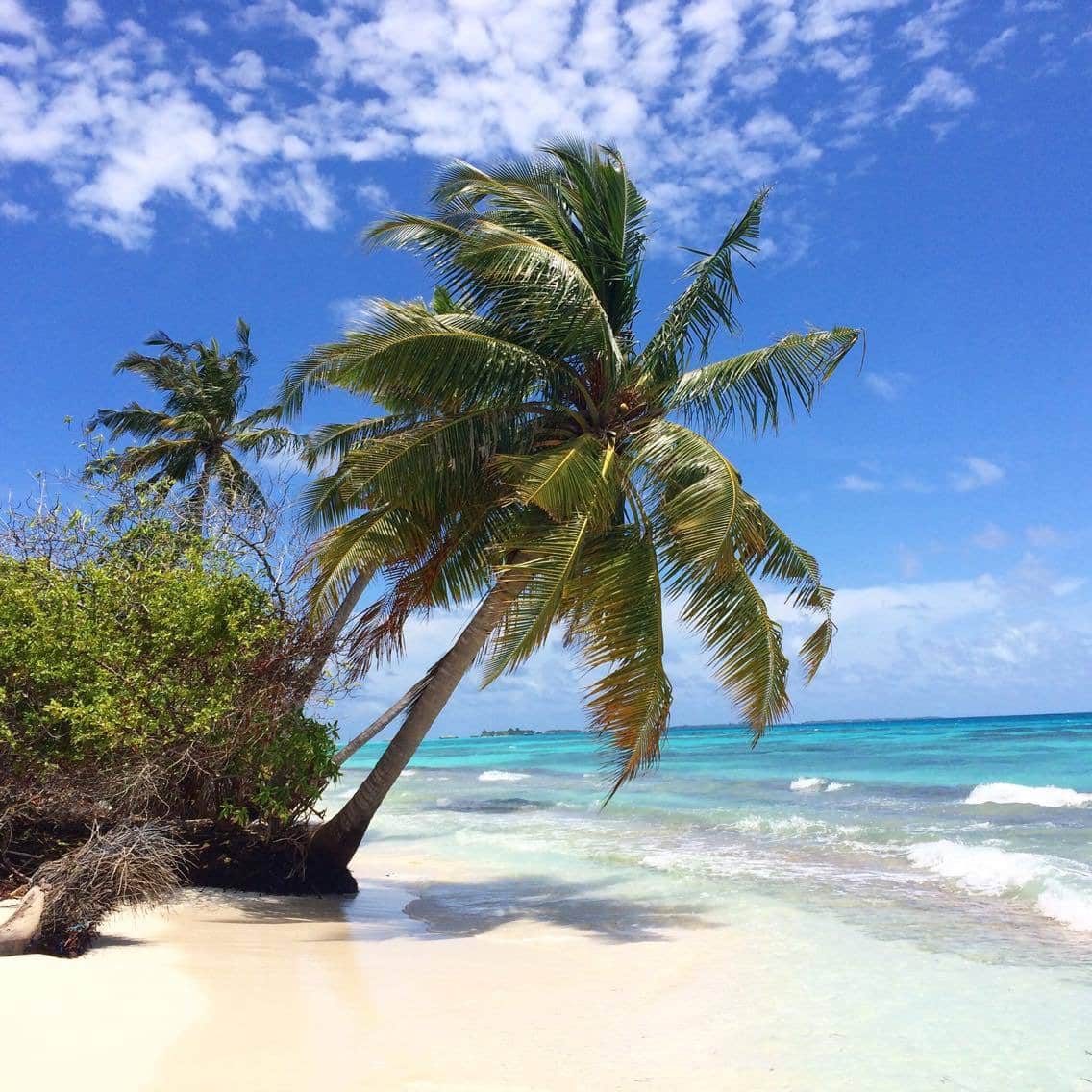 5. GORUGOBOLHI (ގޮރުގޮބޮޅި)
PHASE BETWEEN MIRI AND KIHAH.
Even though this is officially the 5th stage of the coconut, it is not used in common language anymore. Apart from a distorted meaning in current days, this phase does not have a use in local cuisine and is therefore disregarded.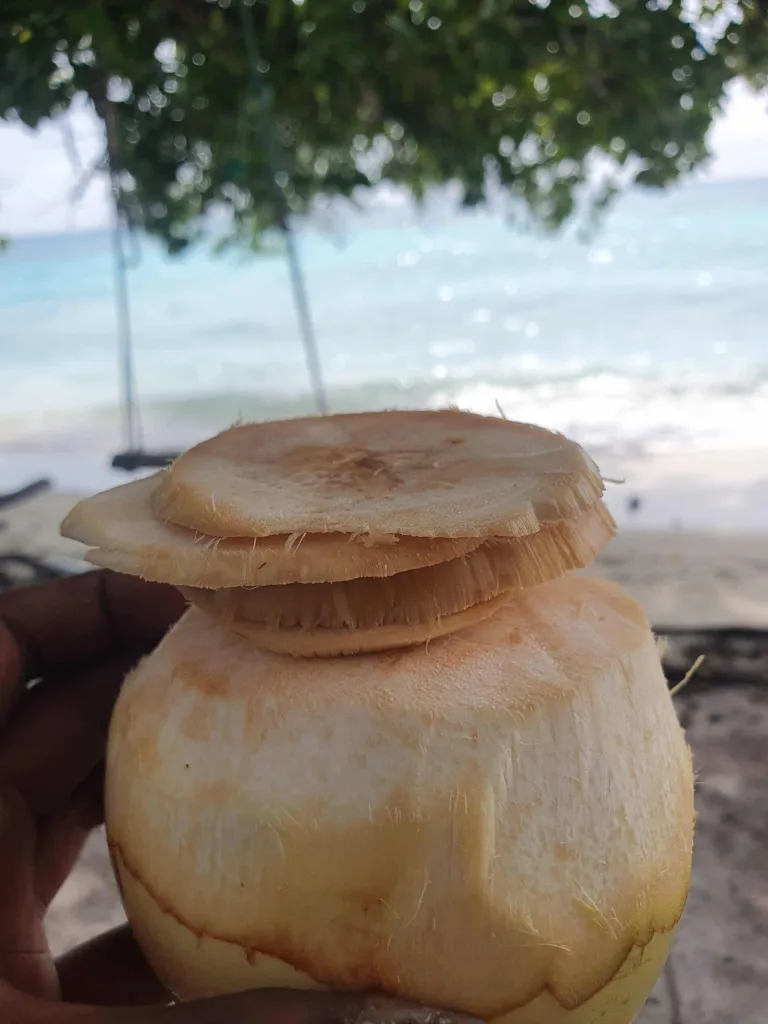 6. KIHAH (ކިހައް)
IMMATURE COCONUT
Even though a Kihah technically has an edible husk, you'll hardly find anyone eating it. In the local dictionary describes it as: "After eating it makes it rough /unsmooth and closes your throat." Kihah is more referred to as texture, for example when eating something dry: "What am I eating? Kihah?"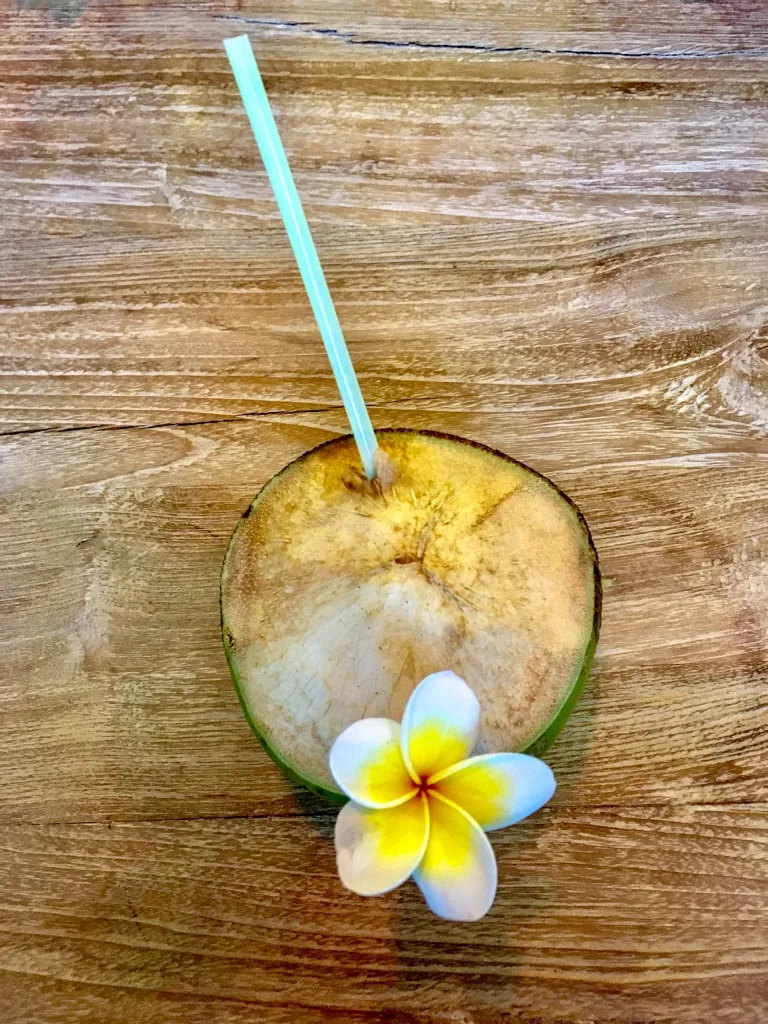 7. KURUMBA (ކުރުނބާ)
DRINKING PHASE
This is the phase where the coconut is filled with water and 'meat' starts to form. Kurumba is the perfect stage of a coconut's life cycle to drink it. We serve kurumba as a welcome drink at Bliss, and on request for a 'coconut to drink', we get in touch with an inhabitant of Dhigurah (all trees are owned by locals) to pluck one for you.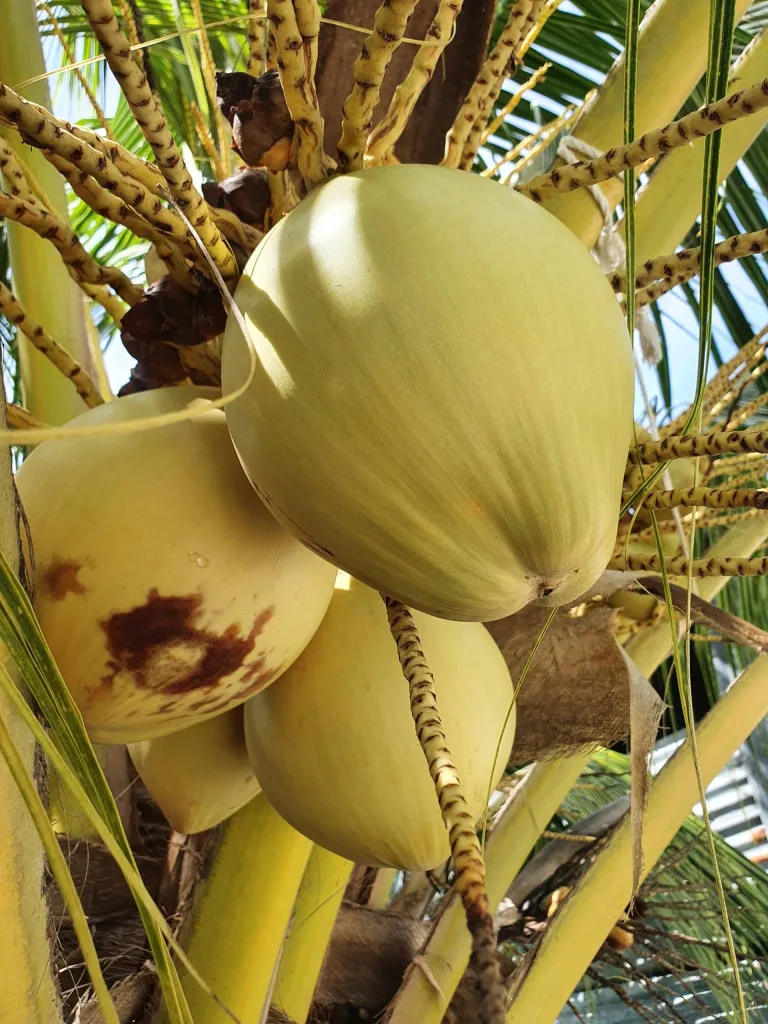 8. GABULHI (ގަބުޅި)
PHASE BETWEEN KURUMBA AND KAASHI
When left on the tree, the coconut continues its growth with the husk and flesh becoming noticeably harder. A Gabulhi's water will not taste as nice and fresh as a Kurumba. The meat will be slightly thicker, but not as hard as a Kaashi, as it  retains some moisture.
In local cuisine, gabulhi is used to make Gabulhi Boakiba, a sweet snack mostly consumed during teatime.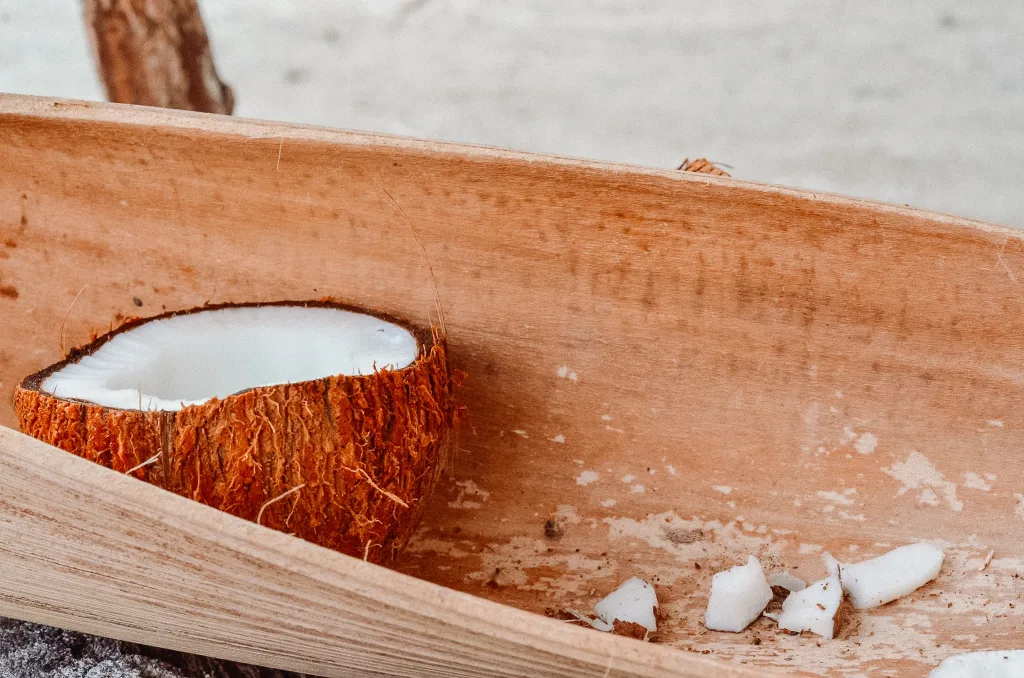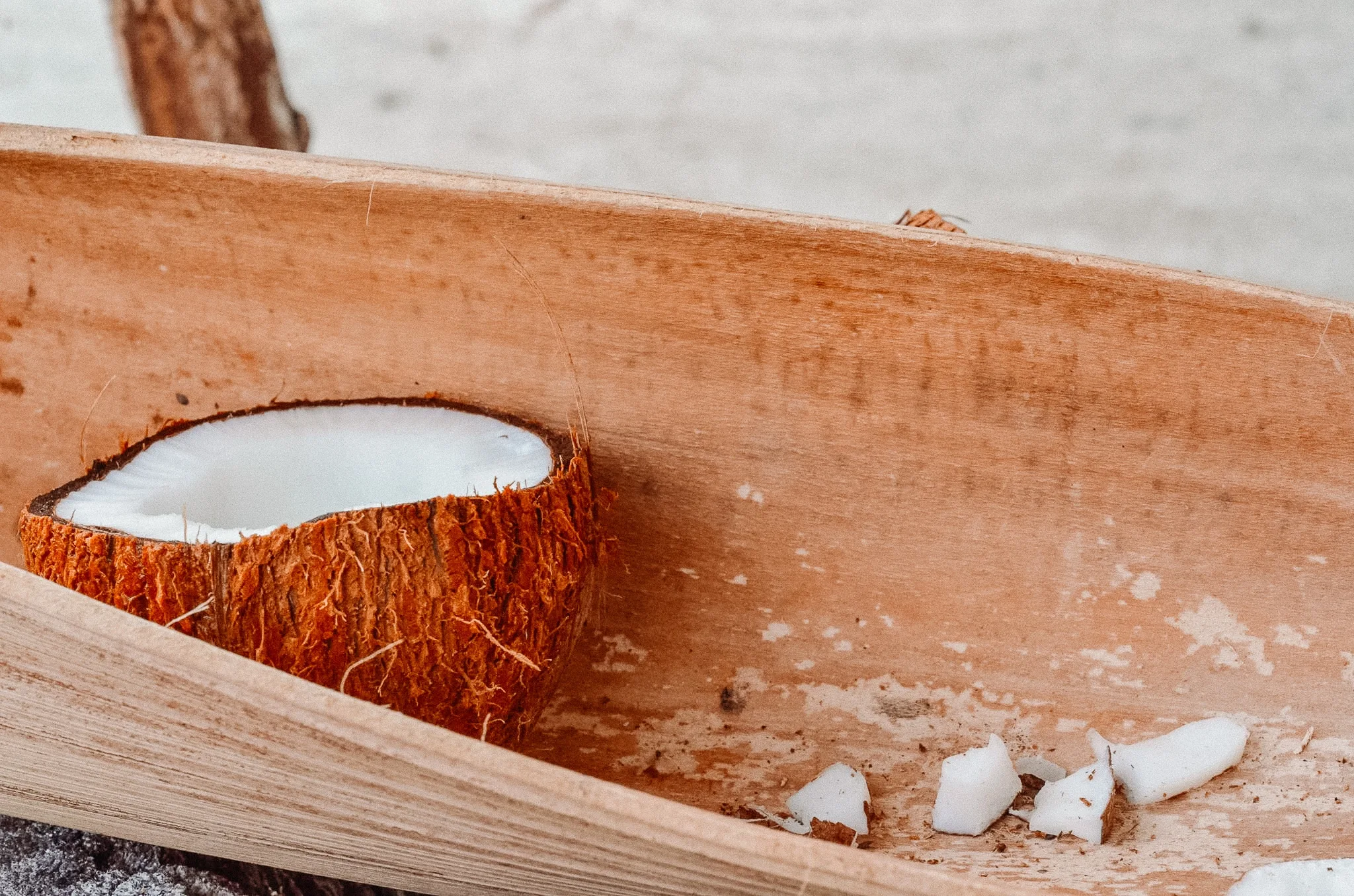 9. KAASHI (ކާށި)
EATING PHASE
This is the coconut people refer to when talking about coconuts! When the husk is removed, it leaves a small brown ball, which, when cracked, will reveal white hardened coconut meat on the inside. The meat can be eaten as is, grated for the use of curries and a variety of other dishes, reduced to oil and milk.
A very common use of grated kaashi is for the (delicious) local breakfast dish called Mashuni, which can be eaten with roshi, or Huni Roshi (Flat Bread with coconut). Coconut oil is used in cooking as well as a haircare product and to produce cosmetic products such as soaps, shampoos and lotions.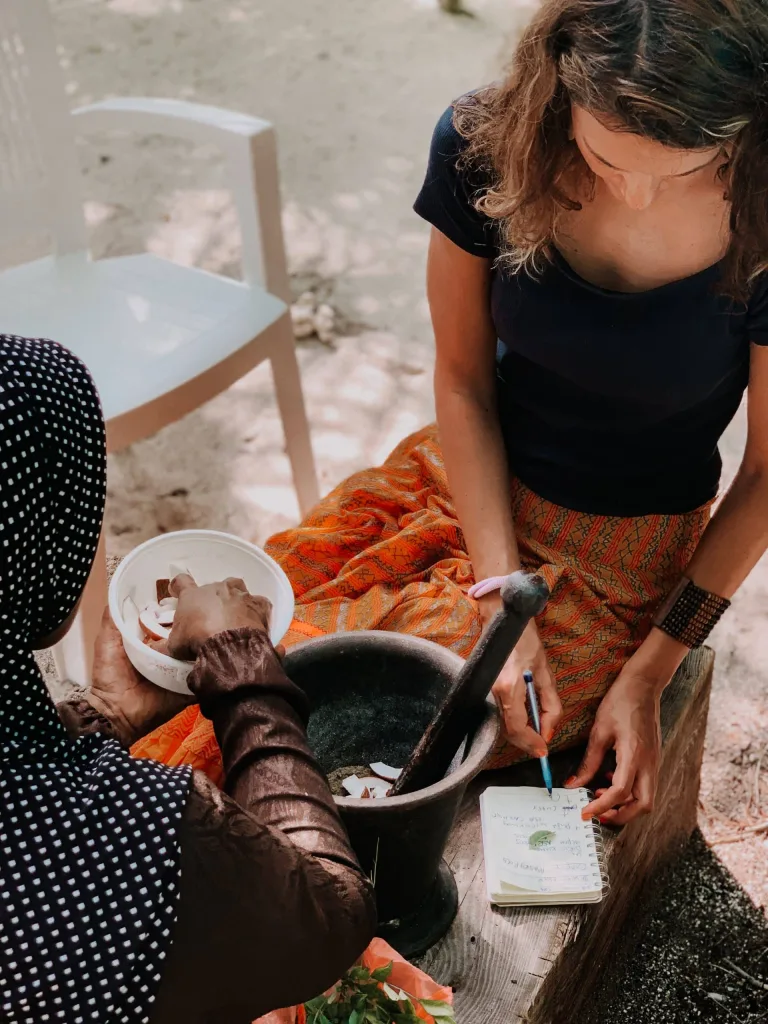 10. KUROLHI (ކުރޮޅި)
MATURE COCONUT WITHOUT WATER
A Kurolhi is used to make Maskurolhi, similarly eaten with roshi (flat bread).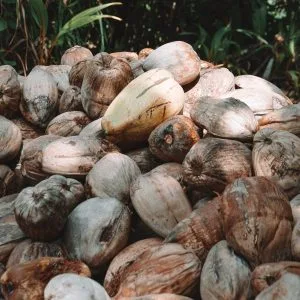 11. KOADHUKAASHI  (ކޯދުކާށި)
PHASE BETWEEN KUROLHI AND MUDIKAASHI.
If the coconut is not harvested, it falls down. The fallen coconuts you will find on our island are usually beyond the stage of Kurolhi, and unusable for drinking or eating.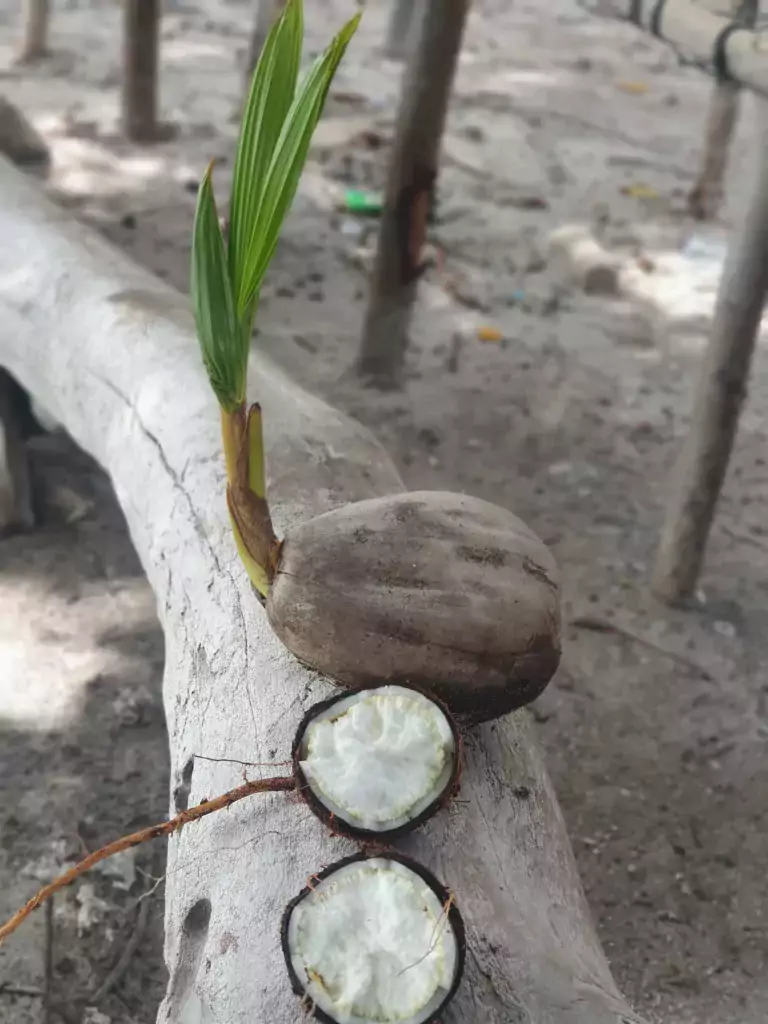 12. MUDIKAASHI (މުޑިކާށި)
GERMINATING COCONUT / COCONUT EMBRYO

If a koadhukaashi is left on the ground long enough, the coconut will germinate and begin to grow and put out shoots. Without intervention, a new palm tree will start to grow from the coconut. 

At this stage, the liquid and meat left in the coconut is being fully absorbed, forming a sponge-like ball of thick white-yellow meat. The meat is called Mudi Kaashi and consumed as a snack. It is less likely to be found on local markets as most coconuts have been harvested at the stage of Kurumba and Kaashi.
Find more articles related to this article below