Happy to introduce you to all of our Team members. Looking forward to welcoming at Bliss soon!
Managing Bliss behind the scenes. Doing our best to make your stay memorable.
Ruwini
Finance & Admin Manager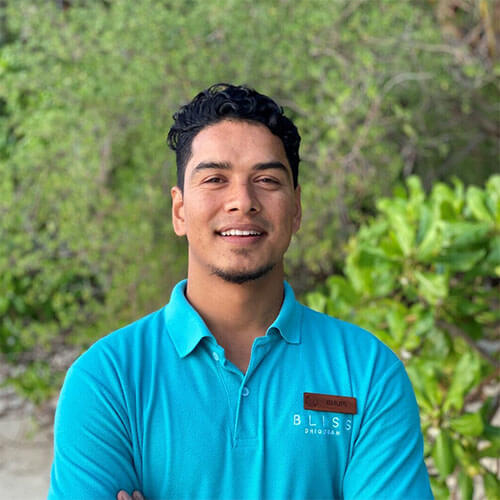 With many years of experience with several restaurants within The Maldives, Bhuppi brought Hermit's standards up to a new level. He is a setting a great example to his team members.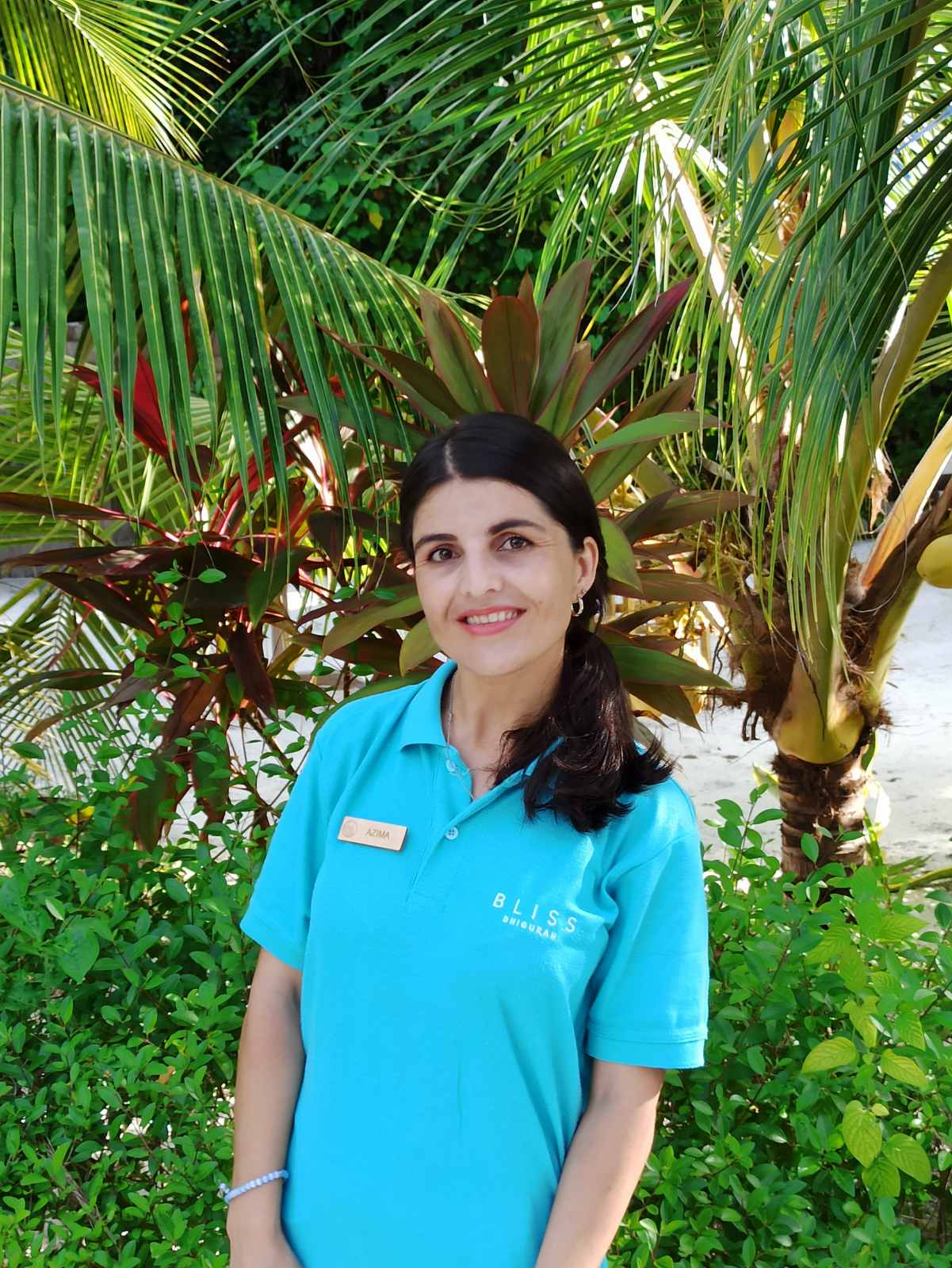 Meet the face of elegance and efficiency, Receptionist Azima. Her charm and professionalism create a seamless experience, ensuring your inquiries are met with grace and your stay with us is nothing short of remarkable.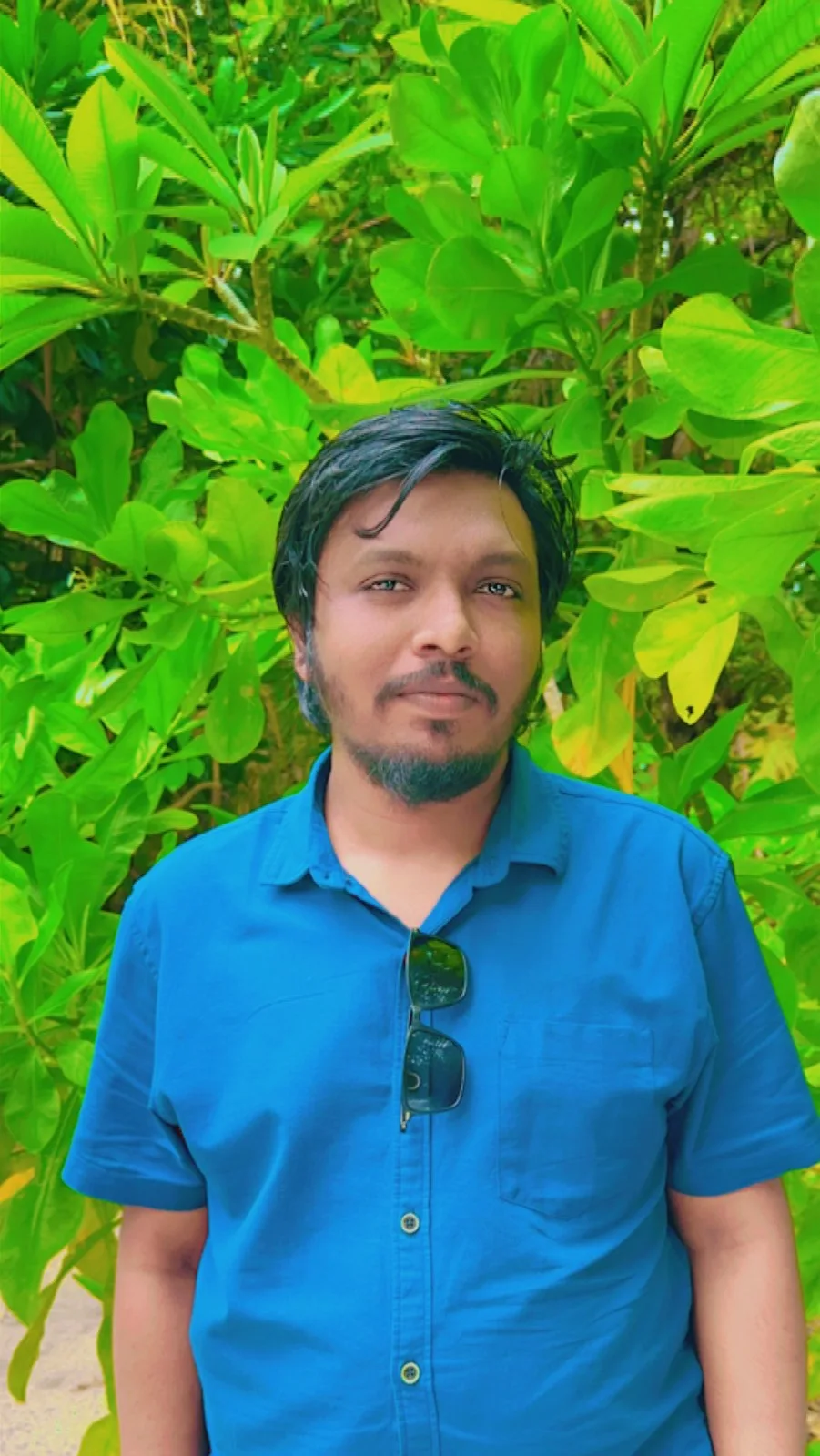 With a passion for fostering a harmonious work environment, Mausoom is dedicated to ensuring that each member of our team feels valued and supported. His expertise in human resources, coupled with his warm and approachable nature, makes him a vital resource for both our staff and our guests. Welcome Mausoom, your go-to partner for all things HR.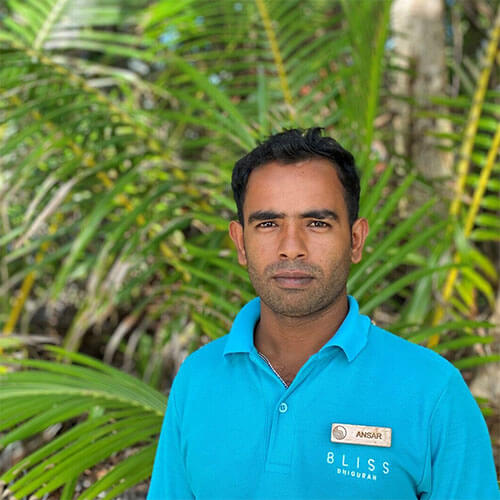 Ansar joined Bliss with many years of experience in the housekeeping department with many luxurious hotels in The Maldives. With his experience, dedication, and hard work, he is making an incredible contribution to the growth and development of our little paradise.
Thanks to years of experience in running excursions, Hafeez is masterful at spotting whale sharks. He knows the best spots for snorkeling and diving. Hafeez is also fond of water sports and gives lessons in wake boarding.
Adding a touch of Balinese grace to our team is F&B Attendant Prisma. Hailing from Bali, she takes you on a gastronomic journey, providing impeccable service and enhancing your dining moments with a dash of Indonesian flair.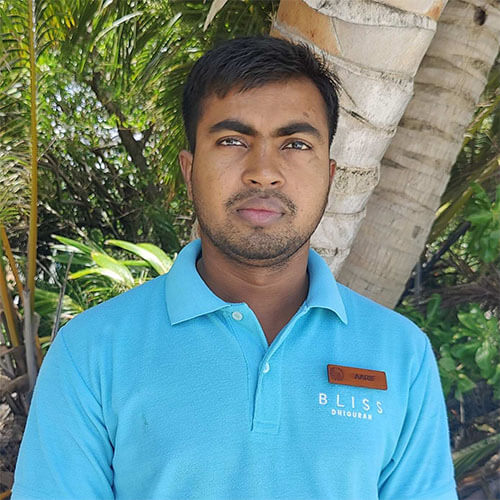 With years of experience in the kitchens of large restaurants, resorts and boutique hotels, Arif works on putting our kitchen's in the same league as a resort's restaurant!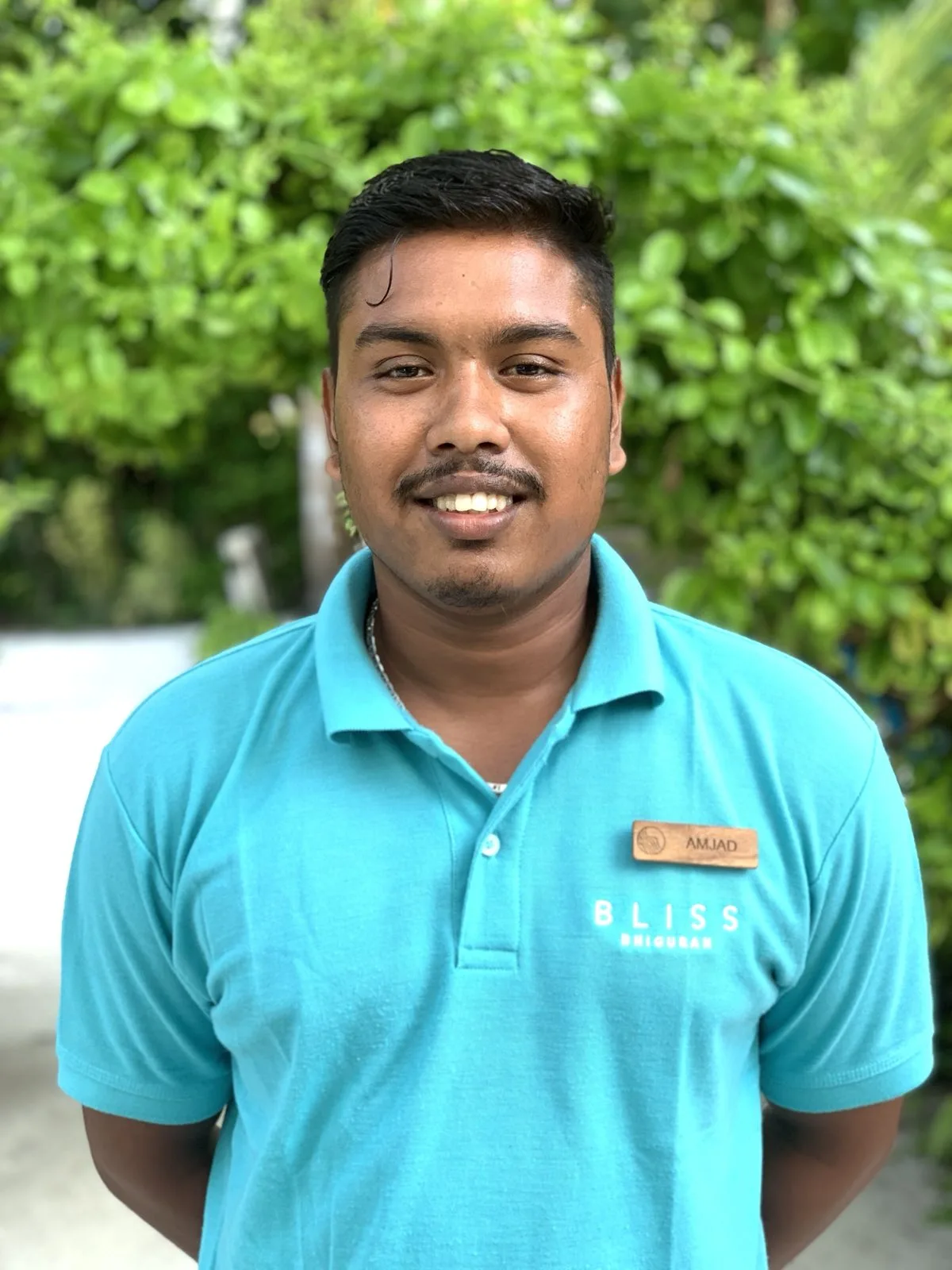 Amjad, the guardian of your tranquil haven. With an experience from five-star resorts, Amjad brings a touch of luxury and meticulousness to his role as a housekeeper. His keen eye for detail and commitment to excellence ensure that every corner of our boutique hotel reflects the utmost comfort and elegance.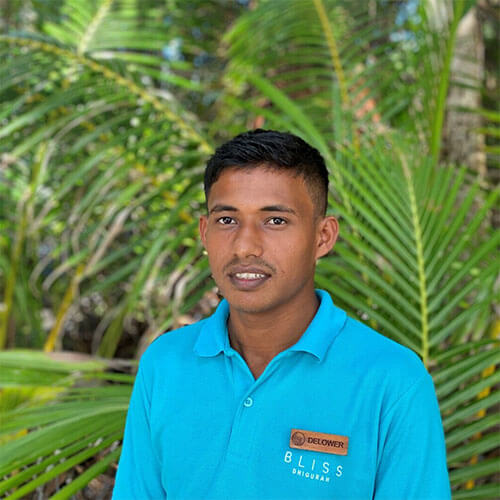 Delower is as a real asset to the Bliss Family for the last 2 years. With his sincerity, dedication, and hard work, he had made a successful contribution to the growth and development of our little paradise.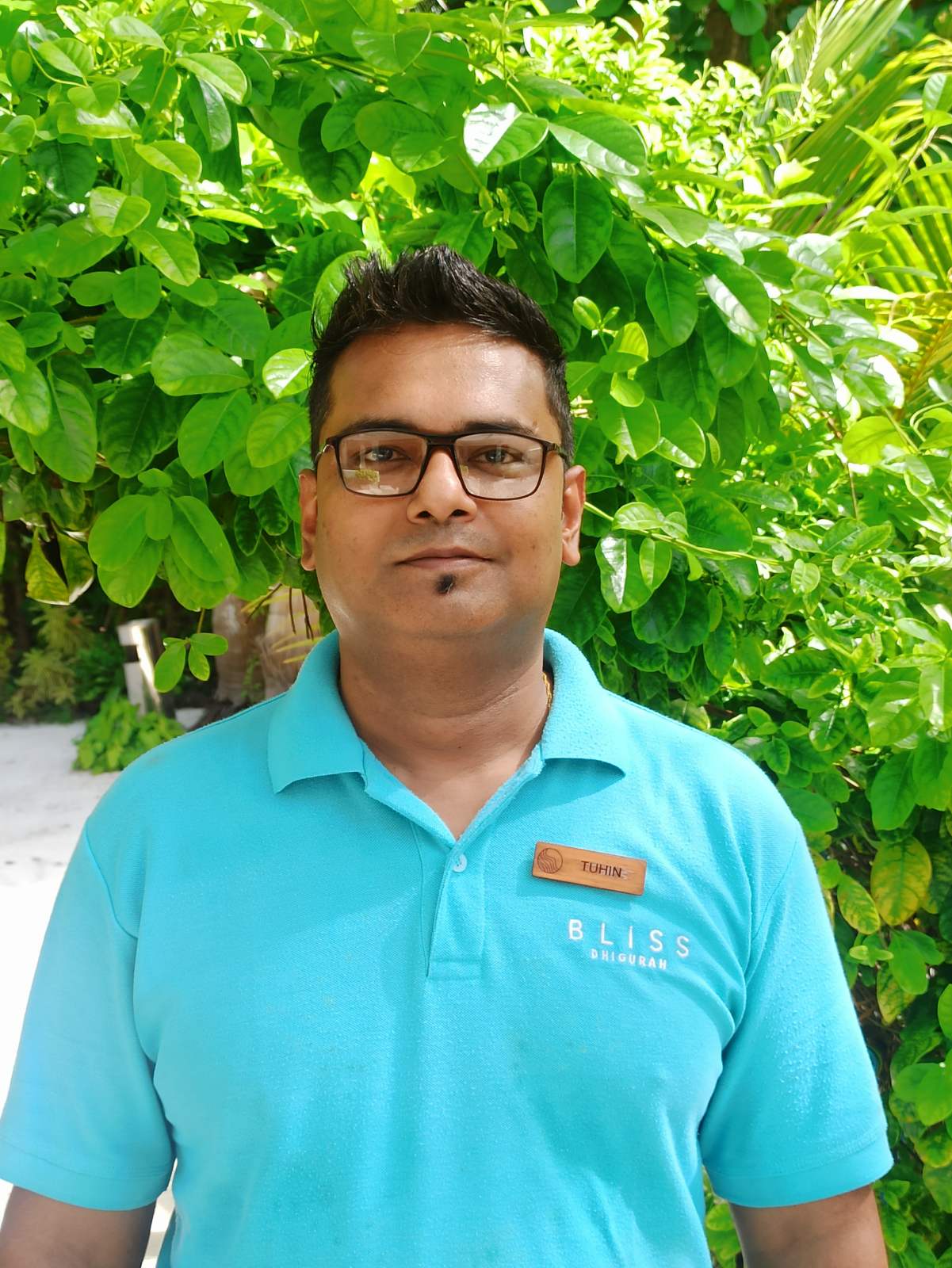 Meet our culinary maestro, Head Chef Tuhin. Hailing from India, Tuhin brings a symphony of flavors to Bliss. With a wealth of experience, he masterfully crafts every dish, transforming meals into unforgettable experiences.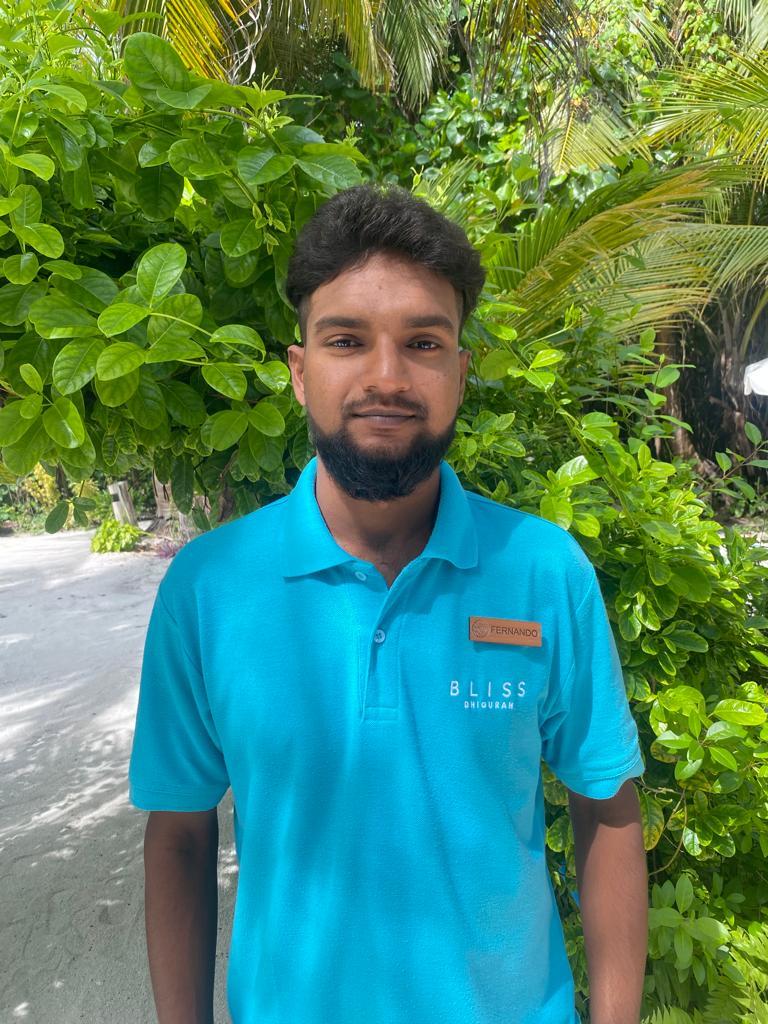 Fernando
Laundry Attendant
Ensuring pristine perfection is Laundry attendant Fernando's forte. Hailing from Sri Lanka, his meticulous touch and attention to detail transform our spaces into havens of cleanliness and comfort, leaving guests enchanted by their stay.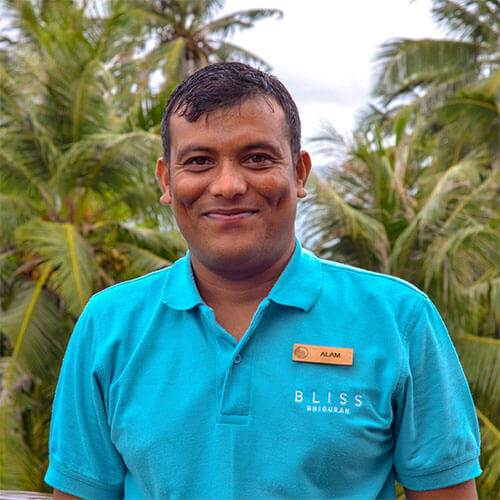 Alam helps the housekeepers out in with their tasks. Whether it's ferrying laundry around or cleaning the jacuzzis, you'll always find Alam working with a smile!
His infectious good mood and ever-present smile illuminate every dining experience Suraj not only serves delectable dishes but also serves them with a side of joy, leaving guests with cherished memories and a heartwarming smile of their own.
With prior experience in bakery and as a pastry chef, Sathyan joined the Hermit's team at the end of 2021. Eager to cook for our guests, together with Brahmma and the team!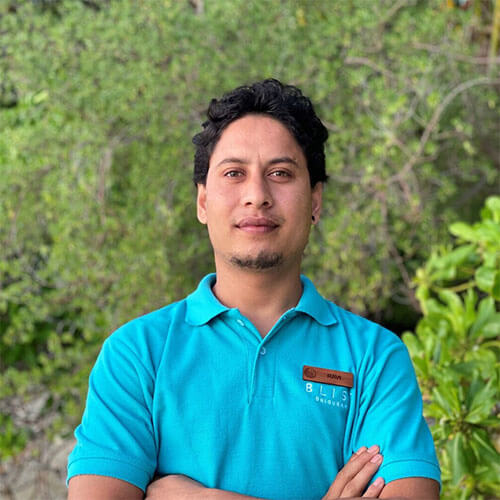 Strengthening the F&B team since the beginning of this year and learning the ropes of F&B from Bhuppi and other colleagues!
Zeeshan
Sales & Reservations Agent
With prior experience in reservations from the resorts industry, "Zee" found herself being more comfortable in the boutique segment.